Alumni ISEP publica artigo na revista internacional "Water"
28-12-2016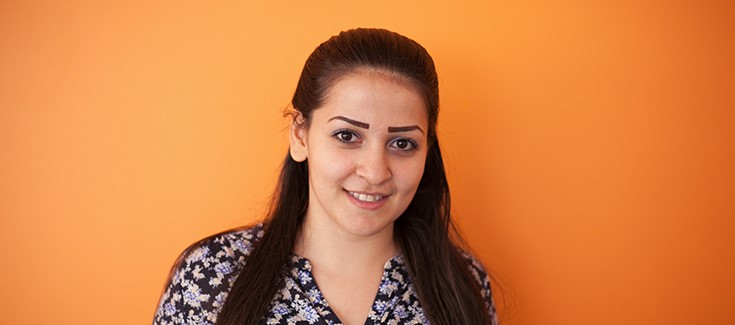 Helen Meerkhan, que obteve o grau de Mestre em Engenharia Geotécnica e Geoambiente (MEGG) no ISEP, publicou recentemente um artigo na conceituada revista científica internacional "Water". O trabalho apresentado resulta, em grande parte, da sua dissertação de Mestrado que, então, foi classificada com a excecional nota de 19 valores.
O artigo intitulado "Delineating groundwater vulnerability and protection zone mapping in fractured rock masses: focus on the DISCO index" (em português, "Delineamento da vulnerabilidade das águas subterrâneas e cartografia de zonas de proteção em maciços rochosos fraturados: enfoque no índice DISCO") está disponível online, contando também com a participação do Laboratório de Cartografia e Geologia Aplicada (LABCARGA) do ISEP.
No entanto, este não foi o primeiro feito do género por parte da Alumni de origem síria. "O essencial da investigação [desenvolvida no âmbito do MEGG] foi objeto, igualmente, de comunicações, com o apoio do LABCARGA|ISEP, em congressos internacionais de especialidade, em 2016, nomeadamente o 43.º IAH International Congress, em Montepellier, França, e o 35.º IGC – International Geological Congress, na cidade do Cabo, África do Sul", conta o diretor do MEGG, Helder I. Chaminé.
Da Síria para o Porto: encruzilhada de saudade e sucesso
Helen Meerkhan deixou a capital síria, a cidade de Damasco, para se mudar para o Porto. Muniu-se de bagagens e uma grande força de vontade, deixando o seu país de origem para trás, que continua ainda hoje mergulhado numa profunda e dramática guerra. "O objetivo passa por evoluir academicamente para mais tarde ajudar a reconstruir a minha Síria", salienta a Alumni ISEP.
Deste modo, ingressou no ISEP, no ano letivo de 2013/2014, fruto de uma bolsa promovida pela Plataforma Global de Assistência Académica de Emergência a Estudantes Sírios. Atualmente, e depois de concluído com sucesso o Mestrado em Engenharia Geotécnica e Geoambiente, está a frequentar o Doutoramento em Geociências (especialidade em Hidrologia/Hidrogeologia), na Universidade de Aveiro. O LABCARGA|ISEP continua a ser um dos centros parceiros nas investigações de Helen Meerkhan.
O Mestrado em Engenharia Geotécnica e Geoambiente é um dos vários cursos do ISEP certificados com o selo de qualidade OE+EUR-ACE. Esta opção formativa especializa, principalmente, profissionais com competências avançadas em geotecnia de rochas e solos, exploração e gestão de georrecursos, geociências de engenharia, geotecnologias e geotecnia ambiental. O plano de estudos está, claramente, orientado para a prática profissional e inovação tecnológica dos setores extrativo, energético e ambiental, perspetivando também soluções para as grandes obras de engenharia.